Fotoprint Ltd.
#100, 759 Courtney Street
Victoria
,
BC
V8W 1C3
P
250 382 8218
F
250 478 5506
E
About Foto Print

Orders / Estimates

What We Do

File Guidelines

Contact / Hours

Marketing - Cards - Envelopes - Stationery Products

Cards of all sorts

Marketing

Stationery

Paper, blank

Other things

Business Printing Forms & Booklets

Binders . Index Tabs . Clipboards

Office & School Supplies

Signage - Display Signs & Wall Coverings

Packaging Material

Auto Dealership Solutions

Hospitality Industry Printing

Healthcare Industry+

Protective & Safety Products
Management plan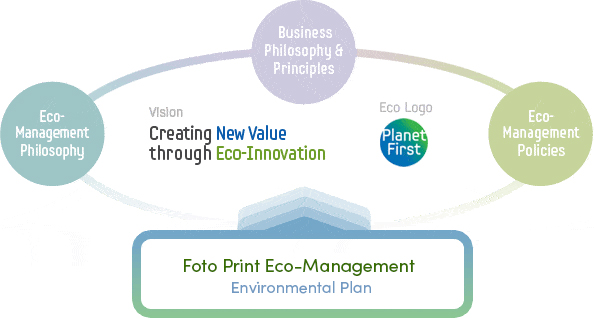 The following identifies environmental issues related to the printing industry and Fotoprint's ongoing management plan to counteract its effect on the environment.
Printing ink. (pollutes landfill)
We use stay open ink to reduce skinning (dried ink is unusable).

We use linseed oil based and waterless inks for lower ink toxicity and VOCs (volatile organic compounds). Waterless ink conserve water and paper.

Our leftover ink is collected and returned for recycling.

Our ink containers are crushed and returned to suppliers.
Fountain solution. (Alcohol fumes pollute the air and waste solutions pollute sewage)
We do not use alcohol or substitutes.

Our waste solution is collected and recycled.
Premedia photographic work. (Silver in waste water)
We do not use traditional photographic methods of plate making. We are 100% digital CTP (computer to plate).
Aluminium plates. (Unnecessary aluminium in landfill)
We do not use traditional aluminium plates, only polyester CTP (computer to plate) which are recycled after use.
Paper. (Destructive forestry management and unnecessary paper in landfill)
We promote the use of paper from 'managed' forests, locally sourced, PCW (post consumer waste) and recycled paper. All of our in-house papers are sustainable forestry certified by one or all of the certification lobby groups including FSC, SFI and PEFC.

We segregate and recycle all waste paper.
Solvents for cleaning. (Vapours polluting the air)
Our buildings are continuously ventilated with air filters in the ducts.
Towels, shop cloths and cotton pads. (Paper, towels, cotton pads pollute the landfill)
We do not use laundered rags which pollute water with ink and solvents.

We use shop cloth towels and cotton pads which are recycled.
Chemistry supplied in metal/plastic containers. (All containers, metal or plastic recycled)
All containers, metal or plastic are recycled.
Twin loop binding. (Discarded coils pollute landfill)
Any wire coil waste is recycled to metal recyclers.

We do not produce "plastic" spiro binding.
Solvent storage. (Solvent vapours pollute the air and liquid spills pollute the landfill)
We tightly secure the barrels.

We store all solvents in a metal containment tray.
Toner based printing equipment. (Plastic cartridges pollute the landfill)
All our toner cartridges are recycled.
Aerosol cans. (Cans pollute the landfill)
We use liquid rather than aerosol.
Activator and stabilizer for plates. (Pollutes waste water)
Exhausted fountain solution. (Pollutes waste water)
Food scraps generated by staff lunchroom. (Pollutes landfill)
All food scraps are collected for composting.
White paper towels. (Pollutes landfill)
We use recycled kraft paper towels which are collected and sent for composting.
Paper cups for staff. (Pollute landfill)
We switched to non-disposable.
Plastic wrap, bottles and metal. (Pollutes landfill)
All materials are saved and recycled.