Fotoprint Ltd.
#100, 759 Courtney Street
Victoria
,
BC
V8W 1C3
P
250 382 8218
F
250 478 5506
E
About Foto Print

Orders / Estimates

What We Do

File Guidelines

Contact / Hours

Marketing - Cards - Envelopes - Stationery Products

Cards of all sorts

Marketing

Stationery

Paper, blank

Other things

Business Printing Forms & Booklets

Binders . Index Tabs . Clipboards

Office & School Supplies

Signage - Display Signs & Wall Coverings

Packaging Material

Auto Dealership Solutions

Hospitality Industry Printing

Healthcare Industry+

Protective & Safety Products
Folding guidelines
There are many kinds of folds, below are guidelines for some of the more common ones. Some folds require one or more "short panels" to allow the finished piece to remain flat. The amount of trim for the short panels will depend upon the weight and type of stock used in your project, but a safe measurement is 1/16th of an inch (0.0625").
Important Notes
These measurements are for text-weight stocks only. Heavy cover stocks will need allowance for the thickness of the paper, so some testing or flexibility of the artwork may be required.
Some folds require slight trimming of one or more outside edges. For best results, allow space near the edges, and supply extra bleed when possible.
If your file is within a reasonable allowance, we may tweak the panels in premedia or during the folding process. If we don't feel we can comfortably do this, we will advise you during the proofing process.
tri/letter fold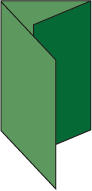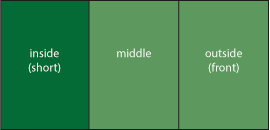 tri/letterfold

| | | | |
| --- | --- | --- | --- |
|   | inside panel (short) | middle panel | outside panel (front) |
| 8.5" x 11" | 3.625" | 3.6875" | 3.6875" |
| 8.5" x 14" | 4.625" | 4.6875" | 4.6875" |
| 9" x 12" | 3.875" | 4.0625" | 4.0625" |
| 11" x 17" | 5.625" | 5.6875" | 5.6875" |
| Custom width: | | | |
gate 4 panel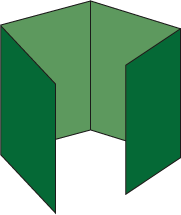 gate fold

| | | |
| --- | --- | --- |
|   | wide panels | short panels |
| 8.5" x 11" | 2.78125" | 2.71875" |
| 8.5" x 14" | 3.53125" | 3.46875" |
| 9" x 16" | 4.03125" | 3.96875" |
| 11" x 17" | 4.28125" | 4.21875" |
| Custom width: | | |
3 panel accordion/z fold

| | |
| --- | --- |
|   | all panels |
| 8.5" x 11" | 3.667" |
| 8.5" x 14" | 4.667" |
| 9" x 12" | 4" |
| 11" x 17" | 5.667" |
| Custom width: | |
4 panel accordion fold / double parallel fold

| | |
| --- | --- |
|   | all panels |
| 8.5" x 11" | 2.75" |
| 8.5" x 14" | 3.5" |
| 9" x 12" | 3" |
| 11" x 17" | 4.25" |
| Custom width: | |
4 panel roll fold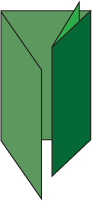 4 panel roll fold

| | | | |
| --- | --- | --- | --- |
|   | 2 wide panels | short panel | shortest panel |
| 8.5" x 11" | 2.8125" | 2.75" | 2.625" |
| 8.5" x 14" | 3.5625" | 3.5" | 3.375" |
| 9" x 16" | 4.0625" | 4" | 3.875" |
| 11" x 17" | 4.3125" | 4.25" | 4.125" |
| Custom width: | | | |