Fotoprint Ltd.
#100, 759 Courtney Street
Victoria
,
BC
V8W 1C3
P
250 382 8218
F
250 478 5506
E
About Foto Print

Orders / Estimates

What We Do

File Guidelines

Contact / Hours

Marketing - Cards - Envelopes - Stationery Products

Cards of all sorts

Marketing

Stationery

Paper, blank

Other things

Business Printing Forms & Booklets

Binders . Index Tabs . Clipboards

Office & School Supplies

Signage - Display Signs & Wall Coverings

Packaging Material

Auto Dealership Solutions

Hospitality Industry Printing

Healthcare Industry+

Protective & Safety Products
Technical information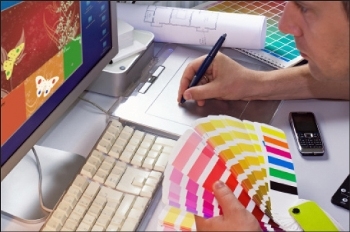 A few points to be aware of when preparing files for printing
Transparencies and layers
The PDF interpreter used in our Xitron Sierra PDF workflow software is an Adobe Level 4 RIP. This means the PDF we send through the system will not revert to a postscript file prior to being trapped and separated. What this means to you is that transparencies and layers within your file are no longer the scary world that some have experienced in the past. Your PDF file will retain the layered instructions throughout the process, ensuring the best quality possible.
Rich blacks
If you have a large area of black and your project is printing in four colour process (CMYK), the fill of the black area needs to be set to 30/30/30/100, or 30% cyan, 30% magenta, 30% yellow, and 100% black. Text and lines should remain at 100% black only.
The exception to this rule is large format printing. In this case, solid black areas should remain at 100% black only (0/0/0/100 CMYK).
Colour settings and profiles
Colour settings and profiles are used to maintain a good colour conversion from RGB to CMYK, and allow you to preview your job more closely to the final printed project.
If you are using any Adobe application, or the entire Creative Suite, you may wish to install the GRACoL cmyk profile to best match our output devices. If you're unsure how to go about this, instructions can be found here.
Although our automated workflow will convert any RGB images to CMYK, it's best to provide your files in CMYK for two reasons: what you see on your monitor will be more accurate to the print, and converting individual images to CMYK in Photoshop (for example) does a better job than automated conversion of an entire PDF.
Resolution
When creating digital files intended for commercial printing, it is important that all of the photographs and images in your in files are high resolution. If you have ever seen printed material that contains blurry or blocky images, it was likely caused by incorporating low resolution images. Ensuring a high quality printed job is as simple as making sure all photos and images in your digital files are all high resolution.
The suggestions below assume that text and line art is supplied as vector. If you are rasterizing text (e.g. using Photoshop to do you layout) you will need to start at a significantly higher resolution.
ppi = pixels per inch. Although technically not the same, it is often interchanged with dpi (dots per inch)
Digital and offset printing: All images should be 300ppi at finished size, if text/line art is vector. If the entire document must be rasterized, supply at 600ppi. Anything over 600ppi is unnecessary and will not increase the print quality.
Wide format printing (for items over 12" x 18"): Images can be as low as 100ppi at finished size, or even lower if the item is being viewed from a distance. Our roll-fed and flatbed wide format printers do an incredible job of interpolating images and making them appear at a much higher resolution. Images over 300ppi at full size will be downsampled for speed and efficiency.
Pantone Spot Colours
When working with spot colours, it helps to know how your document is being printed before you create your file.
If your job is being printed on our spot colour offset press, you simply need to choose the Pantone colour in your document. It will print a very close match to the colour specified in the Pantone published spot colour guides.
For jobs printed on our offset full colour press, or on our wide format inkjet printers, it is best to choose the CMYK values specified in the Pantone process colour guide. If you don't have a guide, we have one available for viewing at our customer service counter.
For digital laser printing, we now offer Pantone spot colour matching, which gives a very close match to the Pantone SPOT colour guide on most colours. To utilize this matching ability, you must specify the Pantone colour in your application, do not convert it to CMYK. We have a fantastic new colour chart available for free at our front counter to assist you in choosing the right colour for your project.
Further study
'Bleed' is the term used to indicate the area of a printed image that will be trimmed off after the document is printed and cut to the finished size. Printed pieces that have a white border around all 4 edges do not bleed. Projects that make use of image bleed must extend any background and-or images 1/8" (3mm) beyond the final trim edge (crop marks). We create bleeds by cutting on the crop marks, through the enlarged image. Depending upon which software you are using, if you do not understand how to create bleeds, we can typically create them for you. Let us know when submitting your job or estimate request.

Fotoprint has a reputation for providing high quality printing and we can only produce this quality if we start with a properly created file. Some print shops will 'fudge' a bleed by enlarging the artwork or trimming under size. We will only do this as a last resort because doing so may affect the final size, fold/crease positions, or may have unwanted and/or uneven white lines around the document. We encourage you to visit this section for tips on creating bleeds properly.

We're proud of our 'get it right the first time' record but in the rare occurrence that you receive a defective printing order, please follow these guidelines:

Bring back or request that we pick up the entire printing order.
Provide a clear description of the issue.
Allow us to investigate and identify what happened.

If the problem was on our end, we will reprint it as fast as possible.

If the problem was not on our end, we will contact you to discuss your options. Most errors occur when our customers do not proofread carefully enough. Regardless of the source of the artwork, it is the customer's responsibility to catch any errors in the proof before we print. This is, and always has been, an incredibly important step in the printing process and is the reason why we require approval before going to press.