Fotoprint Ltd.
#100, 759 Courtney Street
Victoria
,
BC
V8W 1C3
P
250 382 8218
F
250 478 5506
E
About Foto Print

Orders / Estimates

What We Do

File Guidelines

Contact / Hours

Marketing - Cards - Envelopes - Stationery Products

Cards of all sorts

Marketing

Stationery

Paper, blank

Other things

Business Printing Forms & Booklets

Binders . Index Tabs . Clipboards

Office & School Supplies

Signage - Display Signs & Wall Coverings

Packaging Material

Auto Dealership Solutions

Hospitality Industry Printing

Healthcare Industry+

Protective & Safety Products
Bleeds
Bleed is a term that is used to describe a printed sheet which has images or elements that touch or extend beyond the edge, leaving no white margin. When a document has a bleed, it must be printed on a larger sheet and then trimmed to the final size after printing. Artwork that makes use of image bleed must have images 1/8" extending beyond the final trim edge.
As an example, if a poster's final size is 11" x 17" and that poster has bleeds, we need to print on a larger sheet, usually 12" x 18", and trim to the final size after.
Printed pieces which do not have images going off the edge do NOT bleed.
Bleeds are generally are 1/8 of an inch from where the cut is to be made. Bleeds in the UK and Europe generally are 2 to 5mm from where the cut is to be made. This can vary from one print company to another. Some printers ask for specific sizes; most of these companies place the specific demands on their website or offer templates that are already set to their required bleed settings.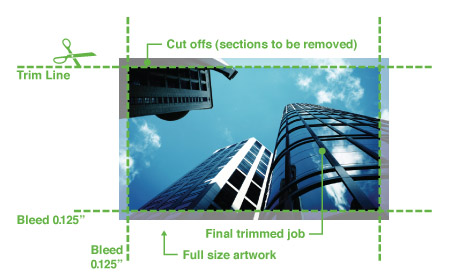 On the above image, the graphic extends beyond the crop marks on 4 sides. Generally, all text should be in from the crop edge at least 1/8" (3mm). A detailed PDF can be downloaded here showing typical layouts, bleeds, and safe zones.
Depending upon which software you are using and/or if you do not know how to create bleeds, we can typically create them for a small additional charge of a minimum $42.90.
Further Study
Yes, all leading to a better print buying experience.

Before we print ...

We use professional PDF workflow software for processing supplied digital files, which means:

Supplied files are automatically checked for issues which will affect print quality. Most copy centres just print your file as supplied but we will always contact you first if there are resolution, bleeds, or other issues.
Many minor issues are automatically fixed at no charge.
Colour profiles are automatically applied which always ensures accurate colour reproduction.
All print orders and their digital files are archived for ease of reordering.
Both soft (emailed) and hard copy proofs are provided, which helps to ensure that content and colour is as expected. No negative surprises.

Ordering and proofing ...

Our customer service people are knowlegeable! This might not sound important but you wouldn't believe how much money and time we can save you with the right advice.
Fast and simple web based ordering and estimating.
Online proof approval, if colour accuracy is not critical.

Quality equipment, minimum environmental impact

We have an extensive equipment profile, including digital, offset and ink-jet, which is necessary for different types, sizes and quantities of printing. Copy centres usually have small digital devices, which are not economical for larger run lengths and render questionable quality.
We consider the environmental impact of every equipment purchase.

Local ...

Locally owned, locally produced, locally delivered.

 

Yes. We hired the quality control guy that used to work at the M&M candy factory until he got caught throwing away all the candies that said "W" (kidding :)

Quality control is a priority at Fotoprint. We enjoy one of the smallest reprint percentages in the industry because we"get it right the first time". When our customers pick up their printing (even business cards), we are used to big smiles.
A FRIENDLY WARNING: For thoses who have not dealt with us before, please bear with us if we seem overly attentive to details such as bleeds, folded panel sizes, low resolution images, etc. If you care about print quality, rest assured that the end result will be fabulous.

'Bleed' is the term used to indicate the area of a printed image that will be trimmed off after the document is printed and cut to the finished size. Printed pieces that have a white border around all 4 edges do not bleed. Projects that make use of image bleed must extend any background and-or images 1/8" (3mm) beyond the final trim edge (crop marks). We create bleeds by cutting on the crop marks, through the enlarged image. Depending upon which software you are using, if you do not understand how to create bleeds, we can typically create them for you. Let us know when submitting your job or estimate request.

Fotoprint has a reputation for providing high quality printing and we can only produce this quality if we start with a properly created file. Some print shops will 'fudge' a bleed by enlarging the artwork or trimming under size. We will only do this as a last resort because doing so may affect the final size, fold/crease positions, or may have unwanted and/or uneven white lines around the document. We encourage you to visit this section for tips on creating bleeds properly.

Missing bleeds.

Missing bleeds.

Missing bleeds.

Low resolution images (mostly taken from the web)

Incorrect file sizes.

A bleed is an area on a printed sheet where the image extends to the cut edge. The outcome of missing bleeds is uneven and sometimes crooked white lines on the edge of the printed piece which leaves an unprofessional look, especially on business cards. While missing bleeds can be easily applied in the native software application, repairing bleeds in a PDF can be a time consuming process. In some instances we can fix it but there will be extra charges for us to do so.

There are many printing companies and copy shops that do not worry about bleeds. Our print standards are higher. Please bear with us as we try to get it right, the first time. The end result will be worth the effort.

Depending on the specifications, we use both digital and offset technologies to print business cards.

Dry toner based digital printing is prone to cracking, especially if a dark image is on a fold or bleeds off the edges, but our HD digital press uses new ink technology which is much less likely rub off or crack.

Offset printing is unlikely to crack. The ink tends to soak in to the stock, rather tha sitting on top of it.